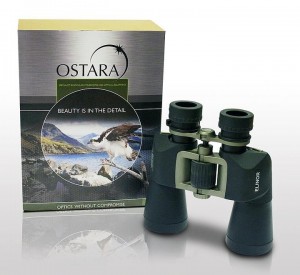 Traditional style binoculars with premium performance. Available in 8×45, 7×50, 10×50 and 12×50. All four models have their own attributes. The 8×45 are suited for general use and birdwatching. The 7×50 and 10×50 give outstanding low light performance, and the 12×50 is ideal for plane spotters.
Make no mistake, these are all optics of the highest standard. Don't just take my word for it, as the Sky at Night magazine voted the Elinor 10×50 as best in class for astronomy. From my own point of view, the 7×50 is by far the best and can give as good results as many roof prism binoculars costs 3 or 4 times as much.
All four binoculars feature fully multi coated optics and nitrogen waterproof. Upgraded recently with twist eye cups and long eye relief throughout the range. Virtually no internal reflection helps improve contrast.
These are not light binoculars at 855 to 960g, but handling is superb. The focus wheel , twist eye cups and dioptre adjustment can all easily be used with gloves on. This is ideal if wearing camouflage clothing.
Apart from a little CA, I cant fault the quality of the optics. Even the 12x version gives a high contrast image.
Come complete with a soft case, lens covers and neck strap. Warranty is 30 years (10 years parts and labour, 20 years parts only)
If you are looking for quality optics in a porro prims design for around £200 you really cant go wrong with the Ostara Elinors. With a bit of care and attention they will last a lifetime.