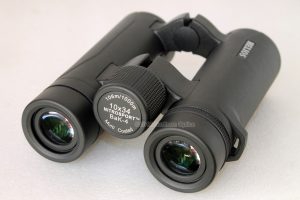 The Helios Nitrosport 10×34 binoculars at first glance offer amazing value for money considering the specs. So lets take a closer look.
Packaging. Often with lower priced binoculars , you ten to get generic outer packaging to help keep the price down. Not so with the Nitrosport range. You get a very nice box, showing images for the contents + full specification of the full range. This box is fairly solid for storage when not in use
Case, straps and lend covers. As with all the current Helios nitrosport range, you get a very nice padded neck strap, which is extremely comfortable to use. To help keep the price down, the case is soft nylon with a Velcro fastener and an internal pouch. A soft nylon strap clips onto the case, and there is a rear belt loop. Objective lens covers are drop – down and can be removed. Eye piece lens caps is a single but flexible unit.
Handling. No issue here. An extremely lightweight 412g body, is much lighter than many 10x32s. The attractive open hinge design allows for a comfortable and secure grip. The neck strap connections do not protrude as far out as some others, meaning they do not push into the hands. The focuser wheel is large , an moves very freely, as does the right eye adjustment. Eye relief is quoted as 16mm, so is just long enough for most spectacle wearers. Eye cups are twist type, and stay in place with each click stop.
Optics. Multi-coated with silver coated BaK-4 prisms. Note that some dealers say they are phase coated. But this applies only to the larger 42mm and 50mm versions. Should not compare these with binoculars in the £129+ range. However, considering the low price, you get a crisp and clear view. Good internal baffling gives no internal reflection , and non of the orange glow you get with some on the edge of field. You get a slight blue tint instead, which is much easier on the eye.
Yes there is some chromatic aberration, even in the centre. But providing you are not looking at high contrast subjects, such as Swans against a dark background, or back lit branches, you hardly notice it. Plus there is not much increase in colour fringing as you go towards the edge.
Compared to the 8x version, field of view is narrower at 106m @ 1000m, but is still a comfortable view if you are not using for tracking fast moving objects too much.  For the low price, colours and contrast are very good.  Close focus at 4m is not as close as many that can focus down to 2m. So maybe not suitable for viewers of small wildlife in the back garden.
Another bonus is they are nitrogen waterproof, and come with a 5 year warranty (check with the dealer for full T&Cs)
Summing up. Great value for money with a very clear image, easy to handle and lightweight. Minor down side is the close focus. But if that is not an issue, these come highly recommended. Click HERE to purchase from Northern Optics