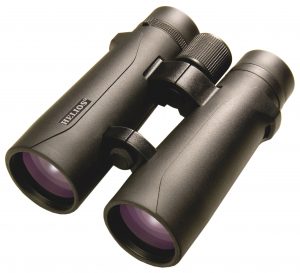 The Helios Nitrosport 12×50 are what you could call the bigger brother of the compact 26 and 34mm models. The extra light grasp and magnification give you that extra reach in many lighting conditions. Unlike the smaller versions which are multi-coated, the 12×50 are fully multi-coated and have the benefit of phase coated prisms.
Case. You get a soft nylon case with a compartment inside for small booklets and cleaning cloths. A Velcro strip keeps it shut, and comes with a belt loop. But given the size of the binoculars, you would be much better advised to use the carry / shoulder strap.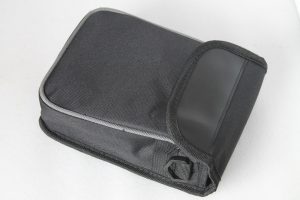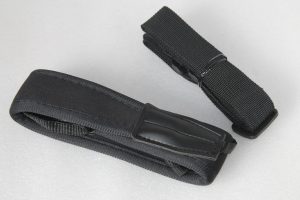 You get 2 straps with the binoculars. One nylon for the case, and an excellent padded one for the neck. Also included is a small microfibre cleaning cloth. Lens caps are stay on / drop down for the objectives, and all in one flexible for the eyepieces.
At 796g, these are about par for 50mm binoculars. Not lightweight, yet I found easy to hand hold for short periods. Optically, these do give some  blue colour fringing when looking at tree branches against a bright sky. But remember these are a fraction of the cost of many other brands with similar spec.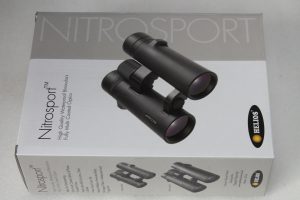 But plus points, are a good bright image with acceptable levels of contrast. As with many modern binoculars, internal baffling gives a nice dark outer edge for increased contrast.
There is some fall off in sharpness towards the edge, but much better than expected, and have seen much worse in more expensive options. Field of view is quoted as 86m @ 1000m. But I found this a very comfortable view, and easy tracking moving objects such as planes was obtainable. I am guessing these will be used on a number of occasions by plane spotters.
One the subject of field of view, here is a minor gripe (and I mean a minor one). Although these are 16mm eye relief and you can easily get full view with spectacles on, I found for non spectacle wearers the twist eye cup comes out a couple of mm to far. This means you get around 90% field of view. You can twist back part way, but does not seem to stay in place. So for not wearing glasses, I found is easier to twist the eye cups fully in, and either rest them on your forehead just above your eyes, or hold then away from your eyes. But this is easily done.
Close focus is quoted as 4m, but in practice I found it near 3m (or 4 paving slabs in my garden).
But plus and minus points aside. For +/- £100 you certainly get a lot of binoculars with good spec, and can easily compliment a smaller set for looking at distant objects such as planes, ships and long distance terrestrial.
Click HERE to buy