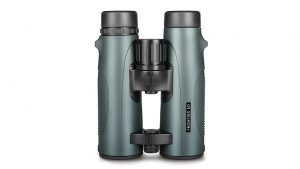 A customer came to the Northern Optics outlet several years after purchasing a set of Hawke Frontier (old model) 8×42 from us. I must say they were in excellent condition after all those years, and the fact they were soaked in rain water as the customer walked in showed what confidence in the Hawke nitrogen waterproofing the customer had.
They were looking for a set with 10x magnification to bring out more detail in the birds feathers. After trying a couple of sets of 10×42 they were struggling to see a difference.
Then they were introduced to the Hawke Frontier ED 8×43. Although the magnification was the same as their old set, the clarity of the ED glass brought out so much more detail, and they had no hesitation in purchasing. This once again shows the advantages of buying locally and trying out binoculars before purchasing.
From our point of view, although a few years old, the Hawke Frontier ED 8×43 still match or beat many other binoculars in the same price range and spec