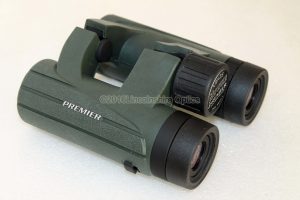 The Hawke Premier 12×25 binoculars are perfect for mid to long distance viewing, on paper, so though I,d try a set.
This particular model was the HA4135 green model. The outer box shows a full colour image of the binoculars with some of the spec also shown. Though as we shall see later they are not close focus. The box itself is very sturdy, unlike many OEM binoculars. Opening the box you find a high quality padded soft neck strap. But this is standard practice for Hawke, who never cut corners with this. The case however is a standard but adequate soft one. No lens caps included
First impressions. Though only weighing 300g they do not feel or look flimsy. The focus wheel, dioptre and  twist eye cups all move freely. Handling is excellent and feel secure. So lets have a look though them. With an exit pupil of only 2mm these are never going to give a dazzling bright image. But when I tested on a dull day I was able to make out detail in the shadowed areas of the trees.
On closer inspection of the view I got a few nice surprises. The field is quoted as 85m @ 1000m, but seemed a very wide view through the eyepieces. Also the is virtually no false colour in the centre. Yes you do get CA on the outer 50% and the sharpness lowers, but within acceptable levels. Another surprise was the eye relief, which was long enough to use with glasses on.
These are shown as close focus. But I would say 5- 10 metres is more realistic. I found this varies from one set to another. So best go to a place where you can check first. But if you are using them for the mid – long distance viewing they are designed for , then this will not be a problem.
These may be discontinued soon, but contact Northern Optics to enquire if any are left
Summing up, if you are after a compact set of high power binoculars, these will do the job better than cheaper zooms. All the sets I have tested so far have been in perfect collimation