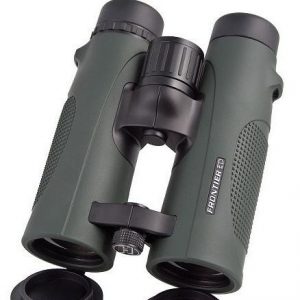 A customer came to the Northern Optics public outlet at the Waters` Edge visitor centre, Barton upon Humber looking for a premium but affordable binoculars for general use.  They chose the Hawke Frontier 8x43ED binoculars above many others. One main reason is the price, which due to being discontinued and other newer models taking its place, mean the price has dropped from over £350 to under £250. So do not be fooled by the price, as these are genuine high performance optics deserving a premium price tag.
With long eye relief and a wide field of view, these should suit all users. The open hinge body style may be longer than some, but they balance nicely in the hands. Handling is very easy with a grippy body and smooth controls.
A picture window 143m @ 1000m FOV makes tracking of moving targets easy. Complete with lens caps, neck strap, cleaning cloth and quality semi soft case.
With these being discontinued,  chances to buy new will become more difficult. So if you see a set for under £250, snap em up