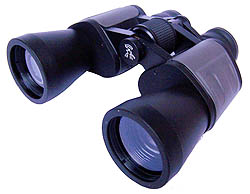 The Visionary Classic 7×50 are aimed at the budget end of the market. BaK-7 prisms and standard lens coatings help keep the price down.
So straight out the box, you are presented with binoculars that come with standard case and strap.  I found build quality can vary a little from one to another, but nothing to worry about. Not as sturdy as the Visionary HD range, but the price reflects this.
So what about the optics . First thing you may notice is a little internal reflection. I found  holding them away from your eyes eliminates this. On the subject of eye relief, it is long enough to use with glasses on without having to fold down the eye cups.
Although not as bright as fully multi coated optics, the image is very sharp and clear.  Chromatic aberration is hardly evident in the centre 50%, but increases heavily towards the edge. But remember these are less than £30 at the time of this review.
With the low magnification, there is very little eye strain. This makes them perfect for prolonged observations. Also don't be put off by the 7x power. This is plenty for every day use.
As with all 7x50s, you get a flat field and a good depth of field. Around a half turn of the focus wheel is all you will need. The dioptre adjustment is usually very smooth on the Classics. But on the one I tested was a little stiff (but not enough to be a problem)
Handling is excellent + they are easy to hand hold. 7×50 binoculars are the perfect choice if you have unsteady hands.
I found compared to the Visionary classic 10x50s the image quality of the 7x50s was slightly sharper. The 7mm exit pupil making them also suitable for low light and astronomy observations.
Highly recommended if you are on a budget 
You can contact Northern Optics here to ask about stock availability