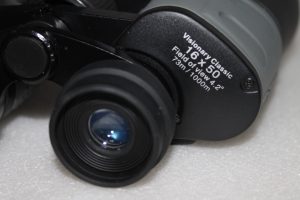 The Visionary classic 16×50 binoculars on the outside look just like the other 7×50, 10×50 and 12×50 variants. With the option of 16x, these are aimed more at plane and ship spotters rather than birdwatching.
They come with the standard Bk7 prisms and fully coated optics. Although they do not give the same results and more expensive ones like the Visionary B4 or HD range, they perform adequately and do the job for the price. Unlike some budget binoculars, these have really nice blackened edges to help improve contrast and brightness.
As these give a high magnification, you can hold steady for short periods, but a mount of some kind is recommended if using for longer periods. Handling is excellent and controls are smooth and easy to use.
Come complete with a standard soft nylon case and strap. Lens caps are also included. For spectacle wearers, eye relief is not long, so you will only see 50% of the view
Recommended binoculars for this £30-£40 range