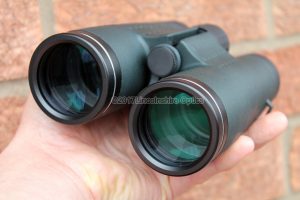 The Ostara Diamond APO 42mm binoculars are ideal for those wanting to take the step into premium binoculars. Recently I was fortunate to have a set of the 8×42 and 10×42 to test.
Starting from the beginning you see a large black box that would be more suited to 50-70mm binoculars. Then when you open it up you see why. There is heavy padding around an aluminium case. Open this to find the binoculars, strap and carry case..On the subject of the case, this is the only thing that stops me giving them a 100% review. So we,ll have to settle for 99.9 out of 100. It is a standard nylon case which is usable, but not apt for such high end binoculars. But I,m sure the dealer will upgrade if you ask nicely..
So lets get on to the binoculars. Some will say at 900g they are heavy. I would say well built. Take into account the triplet APO lens assembly and solid body will add to the weight. They feel well balanced in the hands, with focus and dioptre easy to use.
With the 8×42 the 129m field of view is not as wide as some with 143m @ 1000m, but still gives a picture window view. Note that some binoculars with wider field of views, sometimes sacrifice edge of field quality to achieve this. So with this in mind, the Ostara Diamonds main priority is image quality over anything else. The field on both models is flat across the view with minimal bowing of straight lines.
As for the optics, you get virtually no false colour other than right on the edge. But this is what you would expect from binoculars costing £569 – £599. Contrast and colours are a match for carl Ziess and Leica in the sub £1000 range. This was confirmed by the 2 customers who bought them from us after looking at buying the two premium brands mentioned above. Even though they had not heard of the diamond range, they were obviously connoisseurs of high end optics and found on both occasions ticked every critical requirement in the box
Without doubt given the rarity and on line reviews of these stunning binoculars, they are  one of the best kept secrets from Ostara. Difficult to find now from a few specialist dealers, I would urge you to test a set before spending £1000+ on other premium brand binoculars