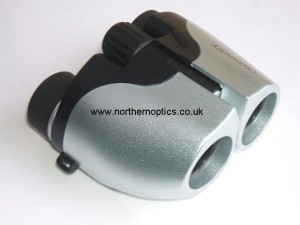 The Visionary 8×21 CXv2 has been upgraded for 2012 with a stylish new look. The whole result is a very attractive pair of compact binoculars.
Upgrades include re designed body looks, new focus wheel, new fold down eye cups , and useful finger grips on the underside
Handling is OK, but maybe not designed for larger hands. The eye cups had a tendency to pop back up when folded down. So spectacle wearers need to be aware of this.
Bag and wrist strap included are of a good quality
As for the optics, they are very pleasing. A wide 7 degrees view with good depth of field makes them user friendly. Chromatic aberration is evident, but not a problem. Colours and contrast are clear for a pair of binoculars under £30. The contrast is aided by a lack of internal reflection.
Not as flat a field as larger binoculars. There,s definatley a sweet spot . Again, not a problem. One great thing is the lack of curvature, even to the edge. Lines are straight across the field. In fact much better than many more expensive binoculars
Overall, very recommended budget binoculars. There is a red lens version still in circulation at a lower price if you can find one. The red lens version is now discontinued
Buy binoculars from Northern Optics here