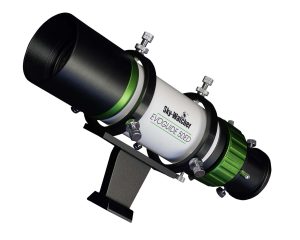 The new Skywatcher Evoguide ED 50 guidescope offers remarkable performance at a very attractive price point.
Features the renowned  Ohara S-FPL53 glass for the ED element for a crisp , bright view with virtually no chromatic aberration. The short focal length of only 242mm gives a very fast ratio of only  f4.8 . Focus is made with a precise helical version.
A built in t-thread is included. This makes it ideal as a fast telephoto lens, as well as a guide scope. Add a 1.25″ diagonal and eyepiece (not included) for a super fast short tube refractor.
Specification:
Highest practical power: x100 (Eyepieces not supplied)
Objective lens diameter: 50 mm
Telescope focal length: 242 mm (f/4.8)
Focuser: fine helical (1.25")
Camera / Eyepiece connection: T2 thread / 1.25" socket
Optic: Doublet ED lens with 2 Ohara glass lenses (1 lens S-FPL53)
Collimation rings & Bracket
Click HERE to purchase from Northern Optics