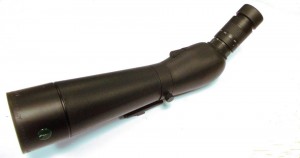 The new Olivon T800 is an updated version of the Olivon T80.  Features a new lightweight body and also accepts 1.25″ astronomical eyepieces.  The ability of accepting 1.25″ eyepieces means you can upgrade to higher magnifications or wider angle low eyepieces with having to change the spotting scope.
As mentioned above, the body is very lightweight. This was the first thing I noticed when I handled the T800 for the first time. Despite this, build quality feels very solid.
The spotting scope comes wide a high grade 20-60x zoom eyepiece as standard. The zoom was very smooth in operation, as was the twist eye cup. The eye piece has very good eye relief for use with spectacles on.
To remove the eye piece, it did take a little effort at first. Saying that, this should improve with time, and gives you the confidence that it is a secure fit.
So what about the optics. I was impressed with the bright high contrast image. The quality remained throughout the range, with the lower powers giving impressive edge of field sharpness.
I found the field of view very good across the zoom range. This is something that can disappoint with some cheaper spotting scopes.
Highly recommended by us if you are looking for a quality, up gradable spotting scope at an affordable price
For the photographers among you, it is up gradable for digi scoping with additional adapters or compatible eyepieces.
Other features. 80mm objective lens, Fully multi coated optics and nitrogen waterproofing.