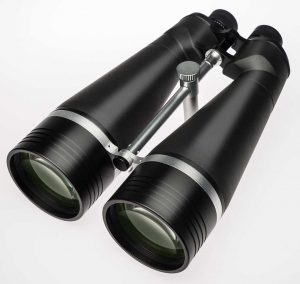 Introduced in 2017 the Helios Stellar II 100mm observational binoculars are the perfect solution for long distance terrestrial, ship spotting and astronomical use. The oversized eyepieces and long eye relief make them ideal for spectacle wearers as much as non spectacle wearers. With 20x100mm and 25×100 variants, there is something for everyone. The 20x gives longer eye relief , wider FOV and larger exit pupil, where the 25x helps bring in distant objects.
BaK-4 prisms and fully multi-coated optics give outstanding clarity, and the waterproofing means you can use in all conditions. Note these weigh 3.6kg so you will need a sturdy tripod. Good news is they come with a tripod connection bar built in.
The new body has a very smooth and attractive look, and comes packaged in a hard case.
Available to buy HERE from Northern Optics
Model
'STELLAR-II' SERIES 100MM WATERPROOF OBSERVATION BINOCULARS
Specification
20×100
25×100
Magnification
20x
25x
Object Lens Diameter
100mm
100mm
Field of view
3.2°
2.6°
F.O.V. @ 1000M
56m
45m
Exit Pupil Diameter
5mm
4mm
Eye Relief
20mm
16mm
Interpupillary Distance
56 to 74mm
56 to 74mm
Light Transmission
85%
85%
Weight
3600g
3600g
Dimensions
382x240x112mm
382x240x112mm
Product Code
30150
30151
Price
£419.00
£419.00