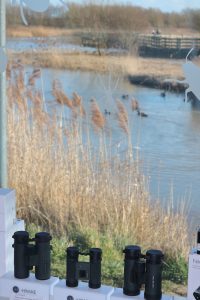 Trying to find the right Hawke binoculars on-line can be a minefield. Whether its being confused by the specifications, size and which handle the best. By far the best way to know which binoculars are best suited to you is to find a place where you can try before you buy.
Although based in Lincolnshire, here at Northern Optics , we get a number of customers from Hull and the East Riding of Yorkshire. The Optics weekends are based at a nature reserve visitor centre , with a view overlooking a lake filled with wildlife (see image) . The usual comment is "no one else stocks what you do" , or similar.
In stock are a number of binoculars ranging from budget to £200+ with dielectric coated prisms and / or ED glass for discerning birdwatcher. As with all our customers, we have a no hard sell policy, and after introducing the choice of products within the customers specs and budget, we leave them to decide, unless they ask for an opinion.
For more info on the Northern Optics , Optics weekends, click HERE