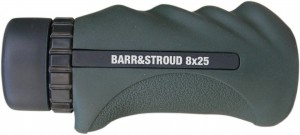 New for 2013 is the Barr and Stroud Sprite mini monocular. Available in 8×25 and 10×25. Features include a lightweight nitrogen gas filled body with a tough rubber outer.  Bak-4 prisms and fully multi-coated optics ensure a high quality view of wildlife targets.
Dimensions 112 x 55 x 37 mm. Weight 160g. Field of view 122m @ 1000m for the 8x version , and 101m @ 1000m for the 10x
A monocular is designed to be used with one hand. Perfect for outdoor enthusiasts who need lightweight high quality optics that are easy to carry.
Supplied with a case and one year warranty. Price as on 2013 is £38.95 for both 8×25 and 10×25 variants