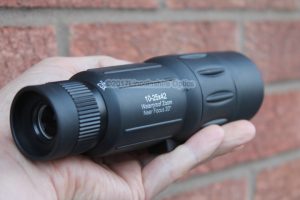 Taking the Helios 10-25×42 out the box, you are first greeted by an obviously solid and well built monocular. A thick rubber armour gives you confidence that it is going to last.
The zoom is adjusted by turning the eyepiece and the focus is 2/3 of the way down the body. The focus was a little tricky to locate at first when looking down the eyepiece, but just took a minute to master, and learn how to correctly hold it. So not a problem.
As this has more lens elements than many 10×50 (for example) you will not get as bright an image. But was very good across the range.
For testing the optics, it was a dull and cloudy day that would test the optics of any monocular. At 10x you get a crisp view with a very flat field. By flat field I mean it is even focus across the view. Colours were bright and clear considering the dull light. Excellent internal baffling gave a lovely black edge to the view which helped improve contrast.
At 15x with the exit pupil reducing, the level of brightness is reduced, and Chromatic aberration does show. But all in all very acceptable. Hand holding was becoming a little more tricky at this level. But for the solution to this, read on.
Thankfully at 25x the overall image quality was very similar to 15-20x. I was able to get a crisp focus. Chromatic aberration is still evident , but within tolerances
I am pleased to see the magnification range stops at 25x. I have seen some cheaper monoculars and binoculars boasting unrealistic high powers that are totally unusable
Another great feature is the close focus on only 20″. For this use 10x. Although at the time of testing (mid winter) there was not an abundance of butterflies as you imagine. But I am sure it will give fantastic views of bees and butterflies on the flowers while not disturbing them.
As mentioned above there is a solution for the shaky hands at high power. It comes with a standard tripod thread. This means you can attach to many devices such as tripods, monoculars, chest pods, car window mounts etc.
Testing eye relief. I found it can be used with glasses on, but only at 10-12x
Comes complete with a soft case, strap and cleaning cloth
Specs
Objective diameter 42mm
Weight 300g
Eye relief 9.5mm – 14mm
Field of view 5.8 – 6.7 degrees
Length 175mm
Coatings – Fully multi-coated
Nitrogen waterproof – Yes
Prism – BaK-4
Click HERE to buy