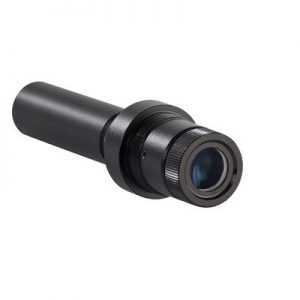 Designed to fit the Celestron CGEM and AVX mounts as well as the older CG-5, the #94224 polar alignment scope is perfect for accurate polar alignment. This is a must have for accurate set up and tracking of astronomical objects.
The recticle is etched with Polaris and surrounding constellations to help set up.
Construction is metal and feel solid. The optics are clear with good eye relief. There is focus adjustment for the constellation images
If you are using your telescope in the Northern Hemisphere, you will recognise the Big Dipper asterism on the reticle, as well as the familiar "W" of Cassiopeia.  Use the Big Dipper to guide you in the spring and summer months, and Cassiopeia during the fall and winter. The North Star, Polaris, is also designated on the reticle, as is the NCP, or North Celestial Pole.  Once you choose which star pattern to use, align your telescope so that the stars line up with the positions shown on the reticle, then move the telescope's azimuth and altitude adjustment controls to place Polaris right in the crosshairs.
The Celestron Polar Axis Finder can also be used in the Southern Hemisphere.  Four stars of the constellation Octans are etched in the reticle.  Adjust your telescope until those stars line up as shown on the reticle.
FEATURES:
Polar align your Celestron CGEM, Advanced VX, or CG-5 equatorial mount with this Celestron Polar Finderscope.
Inserts into the polar finder port at the back of the mount.
The easily identifiable star patterns of the Big Dipper, Cassiopeia & Octans are etched into the reticle, as well as Polaris & the North Celestial Pole, to help with alignment in the Northern or Southern Hemisphere.
Eyepiece has focus adjustments for reticle clarity
Click HERE  to purchase from Northern Optics