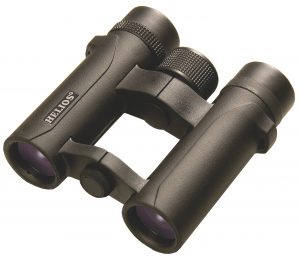 Very good spec for the money. That would some up the Helios Nitrosport 10×26 binoculars in one short line. At the time of this review, the retail price was under £50, making them remarkable value considering them boasting multi-coated optics, BaK-4 prisms and nitrogen waterproofing.
Optics wise, it would be unfair to compare them with other models with fully multi-coated optics and phase coated prisms. But for compact sets in this price range they are up with the best. There is some colour fringing (chromatic aberration), even in the centre. But levels are low, and do not degrade to a large amount towards the edge. On the subject of the edge of field, excellent internal baffling helps gives good contrast and reduces internal reflection.
The twist eye cups are easy to adjust, yet stay in position once set. But be aware eye relief is only 14mm , so may not suit all spectacle wearers. Handling is very easy, with the IPD easy to set (distance between each eye piece) and the focus wheel is large and easy to turn. Which brings us on to one minor gripe. The close focus is 5 metres, which may not be close enough for all users who like to observe insects etc on plants.
The case is a basic nylon with Velcro fastener, but comes with an excellent padded strap that you would expect to find on higher grade binoculars. All the nitrosport range come with these padded straps.
Summing up, the Helios nitrosport 10×26 binoculars are about as good as you will get for under £50. Great value for money, easy to use with better than expected optics. Minor down side is the close focus (the 8x version focuses closer)
Click HERE to purchase from Northern Optics