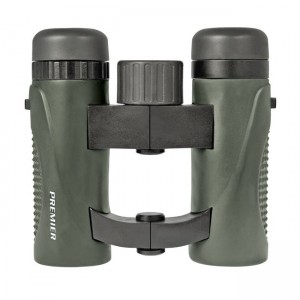 Lightweight and compact binoculars for the everyday user.  A suprisngly bright view from a budget compact binocular. The field of view is quoted at 119m, but when you look through them it seems wider.
These "get up and go" binoculars will suit the beginner, as they are lightweight and simple to operate. The focus is smooth, but can vary a little from one test binocular to another. A good depth of field makes for easy tracking of moving animals
A little fade of in quality towards the edges. But that is to expected in this price range. No lens caps are included, and the twist eye cups are not of the highest quality.  But that aside, and probably the most important things are the high quality optics and easy handling that you get with the Premiers 8×25.
Available in 8×25, 10×25 and 12×25. I only tested the 8x. The 10 & 12x may be less appealing if you wear glasses, as the eye relief is much shorter.
The Open Hinge design certainly scores points in looks over some of the rivals. Available in black or green
Specs
Magnification 8x
Size 25mm
BaK-4 prisms
Fully multicoated optics
Nitrogen waterproof
Field 119m @ 1000m
Close focus 3.5m
Eye relief 16mm
Weight 320g
RRP @ 2011 £59.95