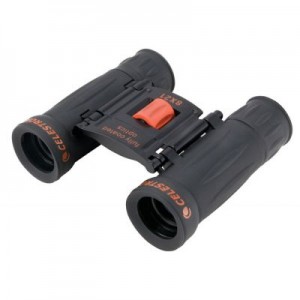 As with all the Celestron Upclose series, the compact 8×21 set did not disappoint. Unlike many budget binoculars in this price range that come in standard plain packaging, the Celestron Upclose 8x21s come in an attractive and colourful box. The good quality soft case has the Celestron logo showing.
They are very compact. So I found that when first holding them, my fingers hung over the objective lenses and obstructed the view. A quick re-adjustment of the grip solved this. The focus wheel is small and easy to use with one finger. The dioptre adjustment is also user friendly.  All in all, handling is excellent.
As for the optics, they were better than expected. These will easily outperform many other compacts in the same price range (£15 as of March 2012). OK, these are BaK-7 prisms, so the overall image is slightly soft, rather than pin sharp.  Don't let that put you off, as the end result is more than acceptable.
Chromatic aberration is hardly evident in the centre of view, and the field is quite flat towards the edge. This is much more than you expect from a £15 pair of binoculars. There is some bending of straight lines on the edge of view, but that being really picky, and is not a problem.
Field of view is 122m @ 1000m. This gives a nice wide view, and aids tracking moving targets. Build qiality is very good. The rubber armour helps against minor bumps.  These are more shower proof than waterproof.
Only downside is that even with the eye cups folded down, there is not enough eye relief for spectacle wearers.
Although not as close focus as some, they are more than capable of giving delightful views of birds in the back garden, as well as targets further out
Very highly recommended and outstanding value for money