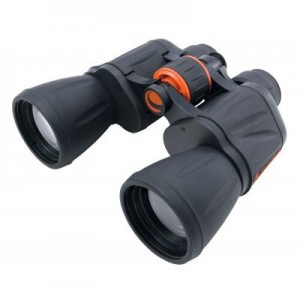 A couple visited Northern Optics, looking for a good quality pair of binoculars. On the display, they were drawn to the Celestron Upclose 10×50 binoculars.  These binoculars were an instant hit. They could not believe how good the optics were for the price.
The reason they bought was to look at their local wildlife. In this case , Deer that run past their garden on a regular basis. For this purpose, they were perfect.
The customers commented on how easy they were to use. But more importantly, the optics got top marks.  In fact they liked them so much, they came back 2 weeks later for a second set.
From a personal view, on paper BK-7 prisms and fully coated optics gives the impression of low quality optics. But this is soon forgot when you look through them. The flat field and good depth of field makes them ideal for passing around, with little or no focus adjustment needed from one person to the next.
Being critical, there is a little ghosting when viewing the Moon, but I,ve see a lot worse in more expensive binoculars. On the subject of astronomy, the Celestron Upclose binoculars have been an instant hit with the North Lincs astro club. Build quality is much better than expected.
10/10 for value for money