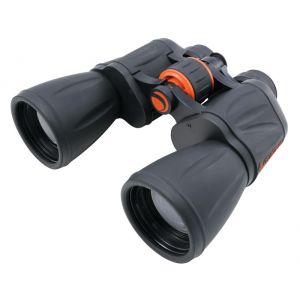 The Celestron Upclose 20×50 binoculars are built for a purpose. Long distance viewing. These are not for your every day birder, but more designed for plane and ship spotters. Presented in an upgraded body, with very attractive looks.
Out of the box they seem much lighter than the quoted 879g suggests.  They can be hand held, but you need steady hands to cope with all that power. Build quality is excellent, and much better than most binoculars in this budget range.
An oversized focus wheel makes handling easy.  These are not suitable for spectacle wearers. The tiny 7 mm eye relief means you will need to have the eye cups folded down at all times. The field of view is very narrow, but for looking at planes and ships its wide enough to do the job.
BaK-7 prisms and fully coated optics give a low contrast image. But for the price of around £29 and 20x magnification this is to be expected.