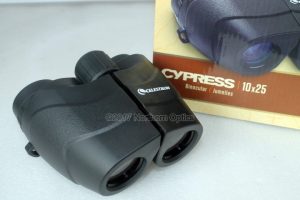 The Celestron Cypress binoculars were the Optics of choice when a customer came to the Waters` Edge visitor centre Northern Optics weekend display at Barton Upon Humber.
Other sets tried in the similar price range were compact 8×25 , 8×26 and 10×26 roof prism designs. But the porro prism 10×25 Celestron Cypress binoculars, from the customers point of view gave an instantly brighter image.
I find compared to the usual roof prism compacts, the porro prisms like for like in optical quality give you the edge with the slightly larger prisms. Not everyone likes the feel of compact porro prisms. Seems to be a love , hate reaction. But if you can get to grips (excuse the pun) with the shorter, wider body, there are some excellent choices out there.