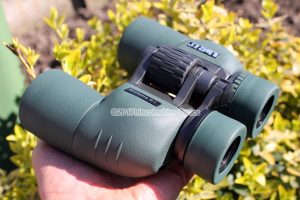 After not seeing any reviews on the Visionary V1 8x5x42 binoculars, thought I would give my own honest opinion. So lets have a look at the price and spec. With an RRP of £279.99 , the price suggests these should be premium binoculars. BaK-4 prisms, fully multi-coated optics and nitrogen gas filled.
So opening the box, we find a soft but glossy finish case. The 2nd thing you notice is the weight. At just under 1 kg, these are heavier than the average 42mm porro prism binoculars. But anyone that knows me will know I never say heavy. I say well built.
So providing the weight is not an issue, they fit nicely in the hands. Maybe not for those with small hands. But saying that if you come to see us you can try a set. The large focus wheel moves a little stiff but freely (if that makes sense) with no tight / slack points. The right eye dioptre adjustment moves very smoothly, even with the eye cups down. With some you need to twist the eye cups out to make the adjustment.
The eye cups are twist type. On the subject of these I will point out a minor quibble. But believe me, these are so good, I am really being picky here. In my opinion they twist out a little to far. For me with glasses off they need to be twisted out about 80%. Any more and you will not get the full field of view.
So lets talk about the field of view. WOW its wide. An amazing picture window wide angle greats you when you correctly adjust the eye cups. It is quoted as 7.1 degrees, but to me its more like 8.2. Brightness , colours and contrast are stunning, and well on par with many similar priced 42mm ED roof prisms. There is a touch of purple fringing, but is hardly noticeable unless you spend your day looking at tops of lamp posts and chimneys (this is how I test for CA).
The low light performance is exceptional. Minute detail can be picked out in the shadows. The 8.5x magnification is a nice compromise and will suit most needs from general use to bird watching.
There is a little fall off right on the edge of view. But the flat field and the WOW factor will the field of view will more than make up. Also a little internal reflection is evident, but only if you have the twist eye cups set wrong.
Other accessories include lens covers than fit well, a basic strap and cleaning cloth.
The Visionary range of binoculars can be purchased from Northern Optics