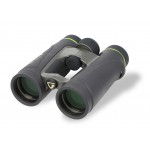 The Endeavor ED IV binoculars boasts the SK15 prism which provides stunning image quality, excellent light transmission and vivid colours for a truly stunning viewing experience. In addition to the new prism feature, Endeavor ED IV has been upgraded with advanced Multi Guard Coatings that provide even better light transmission for viewing in low light conditions such as dusk and dawn. Endeavour ED IV's magnesium body and housing is engineered to provide perfect balance for ease of handling and robust light weight protection.  The new stylish open hinge design and oversized focus wheel provides easy handling and precise focusing in all weather conditions.
Endeavor ED IV was designed for comfort.  This binocular has a newly integrated center locking diopter that allows the user to comfortably fine tune their view settings and three stage adjustable locking eye cups for setting the perfect eye relief.  A binocular tripod adaptor is incorporated in the front hinge for those long viewing periods or for glassing at long distances.  The combination of a new and elegant design, new optical technology, perfect ergonomics, and stunning colour , detail and high contrast make the Endeavor ED IV the clear choice for master birders, avid outdoorsman or anyone serious about wanting to see and experience the word in exceptional detail.
The Endeavor ED IV is backed by an industry leading warranty to allow the user to rest assured that their investment in quality is covered.