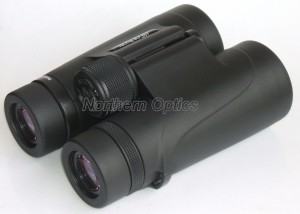 First impression out the box, are the Olivon PC 8×42 binoculars have a simple uncluttered but functional design. This is not a minus point, as they look very elegant.
Picking them up, the feel reassuringly solid and balance nicely in the hands.
Before we get on the the optics, I must mention the focus wheel. This is one of, if not the best focusers I,ve had the pleasure of adjusting. Silky smooth with no tight or slack spots.
To test the optics, I chose to look at some nearby trees and shrubbery. A combination of fully multi=coated optics and phase corrected BaK-4 prisms give beautiful colours and sharp contrast. This is aided by superb baffling that give no internal reflection, even with the eye cup down.
Looking at the leaves and bark in the shaded areas revealed incredible detail. These are truly binoculars for all lighting conditions.  I then turned my view to areas that were heavily back lit. This is an area that can let some binoculars down. Once again the Olivon PC 8×42 binoculars excelled in this department. Colours were bright and clear, with virtually no false colour (chromatic aberration) in the centre of view. For some reason, I found a sweet spot just below the center of view.
There is some fall off in quality towards the edge of view. But this is right on the edge, and will certainly not distract you. Straight lines stay straight all the way to the edge.
Great news for spectacle wearers is the eye relief of 17.5mm. This means you can keep your glasses on, and still get the full field of view with the eye cups twisted down.
Close focus is an impressive 2 metres ( I did measure this). So they are also ideal for looking at birds in the back garden , as well as going out travelling.
As standard, you get a soft case and two straps. One for the case, and a high quality thick  padded strap for the binoculars.
As for any faults or minor gripes. I cant find any. Any one who knows me, will know that's a rarity.
Highly recommended, and can be bought from Northern Optics HERE