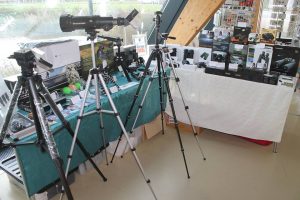 Northern Optics are having Optics weekends every weekend (**see notes below ) at the Waters` edge visitor centre , Barton Upon Humber, North Lincolnshire. Unlike many dealers who are on-line only, you get a chance to try before you buy from a good choice of binoculars, monoculars, spotting scopes, tripods, telescope eyepieces and various other related accessories. Astro telescopes will not be on display. See photo top right
With views looking over the country park and lake, it is a great chance to test various optics on wildlife and surrounding countryside. Binoculars in particular really need to be tested first, as one set that suits one person may not be suitable for the next person.
Rest assured if you ask for advice, you will get an impartial response will no hard sell.
Prices range from budget to advanced
A cafe , children's play area and gift shop are also on site, as well as being a tourism information centre
**Open days are subject to change, due to other events at the centre and Northern Optics having open days elsewhere.  Keep checking the main website at Northern Optics for any updates