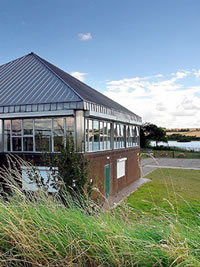 The poor weather did not deter the regular members of the North Lincolnshire astronomy group from visiting the venue at far ings on 4th Feb 2013.
It was great to see 6 new faces coming along. Lets hope they enjoyed their stay, and return again on a regular basis.
Damian kicked things off with a great talk on the Constellation of Orion. This included the Mythological history of the constellation, followed by a tour of interesting objects to see.  Damian's talk was followed by Chris giving us all a very informative talk on "imagining the unimaginable". We became aware of how small we are in the cosmos, and the great distances involved in stellar travel.
Thank you as always to the Lincolnshire Wildlife trust for the use of the Venue
As with every meeting Northern Optics was in attendance with a selection of eyepieces, binoculars and accessories for sale at reduced prices
Naturally as we all came out of the venue, the skies cleared. But that's all part and parcel of being an astronomer.
For more details on the North Lincs Astro club, Click Here