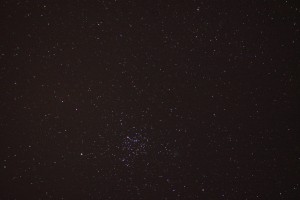 This lovely image of M35 and NGC 2158 was taken with a Celestron Travelscope-70 and a Canon 1100D at prime focus on a Skywatcher HEQ5 mount.
Single 8 second exposure at 6400 ISO. The RAW file was sharpened and adjusted in Digital photo professional to reduce the orange sky glow.
As always, we recommend using live view for focus..For such a basic telescope, we were very happy with the colours brought out in the stars. NGC 2158 was a bonus that I was not expecting from such a small and relatively inexpensive telescope / spotting scope.
The Celestron travelscope-70 can be purchased HERE