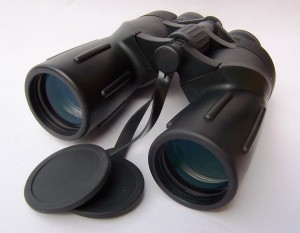 After a few enquiries,  I though I would give an opinion on the illusion optics WP 7×50 binoculars.
These come in a plain white box with standard spec nylon soft case. But unlike many binoculars they come with a large padded floatation strap.
First thing you will notice is the weight. At 1.2kg they are heavier than your average set of 50mm binoculars, but this is due to the solid construction. So lets have a look through them. First things first, the eye relief is so long there is no need to fold the eye cups down, even with spectacles on !.Remember these are large binoculars, so not suited to small hands.
Optically the large 50mm fully multi-coated optics and BaK-4 prisms give excellent brightness and contrast in all conditions. The 7mm exit pupil makes them suitable for low light / astronomy use as well as everyday use.
They are not close focus, so do not buy if you are looking to use for birds in the back garden. but for longer distances they excel. The large focus wheel is not the most fluid, but saying that the large depth of field means you are not constantly needing to adjust it.
False colour (chromatic aberration) is minimal in the centre and within tolerances on the edge. Nicely blackened edges give virtually no internal reflection which aids contrast.
The 122m @ 1000m field of view is wider than some 7x50s I have tested and makes tracking of moving targets easy
Summing up. If you have larger hands, and do not mind the weight then go for it. You certainly get a lot of binocular and great optics for your money
Click HERE  to buy