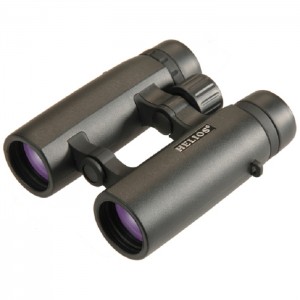 The Helios Rapide 8×32 binoculars come with some impressive specs for a sub £50 set of binoculars, including open hinged body, nitrogen gas filled and multi-coated optics.
They come in an attractive and strong outer box showing the binoculars. Opening up the box, you are greeted by a very stylish semi-soft nylon case. This has no strap, but does have a belt loop.
Take the binoculars out the case, and the first thing you will notice is the lack of lens caps. To many people this is not an issue, but thought I,d mention it..Despite weighing just 450g they feel extremely solid and well built.
After twisting the eye cups out, I had my first look through them. False colour in the centre of the view is quite minimal..Colours are very clear and sharp with a lack on internal reflection aiding contrast .With these having BK7 prisms, they are not as crisp as 32mm binoculars with phase corrected BaK-4 prisms , but saying that they are £49 binoculars, not £149
Close focus is 4.5m metres, so bare this in mind if you are doing close up work. As always, I like to test with glasses on. With the eye cups twisted down, I found I could get the full view. Eye relief is 14mm
So summing up, if these were £150 binoculars, I would be critical of 4.5m close focus. But as they are £49 binoculars, I would say they are excellent value for money waterproof binoculars (I tested in cloudy conditions) for a sub £50 set of binoculars, Build quality and specs are as good as they come
Click HERE to purchase from Northern Optics