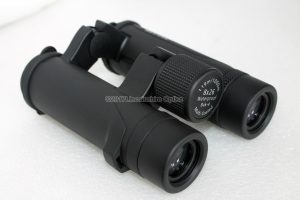 One of the most popular compact binocular sellers at the Northern Optics weekend outlet at the Waters` edge visitor centre is the Helios Nitrosport 8×26 binoculars. This is a good way of judging binoculars, as what people buy at the centre is what they actually pick up and compare against others in the same class. So here is my unbiased opinion. Priced at just under £50 at the time of this write up for open hinged binoculars, with multi-coated optics and nitrogen waterproof, they at first glance look exceptional value for money.
Unpacking – Unlike some generic plain boxes the 8×26 Nitrosport come in a grey / white box showing an image of the binoculars with the logo and full specs. It is a little over sized, but this is to accommodate the padded strap for your binoculars and the nylon clip in one for the case.  The padded strap is very good quality and not one you would expect on low cost binoculars. The case is basic, but does the job with a secure fit , belt loop (as well as neck strap) and a compartment for your cleaning cloth.
Looks and handling – These look very modern compared to many single hinge binoculars on the market. At only 266g they are ridiculously lightweight, yet feel solid. Despite the compact size, they have a large focus wheel which moves very freely with no tight / loose spots. The dioptre is also easy to move, if a little stiffer (as they are supposed to be) and can be easily adjusted with the twist type eye cup down. With some binoculars you need to twist the cups out to do this. The twist cups move freely and do not push back in when you put them to your eyes.
Optics – What you get is without doubt the best sub £50 view I have seen through a 25-26mm set of binoculars. You are greeted by a wide 119m @ 1000m field of view with great colours, contrast and sharpness. This is aided by great internal baffling giving no internal reflection even with the eye cups twisted down and glasses off. The field is very flat with equal focus to around 80% from centre. On the question of close focus, it quotes 5.5m in the spec. Under normal circumstances I would say that is the trade off for the price. But I just tested a set and found close focus was 5 ft or 1.5m..Only had one set with me, so could not compare to see if the rest where the same or if it was a one off. If I get the chance to test others I will update here. Yes the 10×26 was around 5m close focus, but that is another story and another review do be done later.
Pro,s – Excellent starter set, and a good choice for a 2nd set if you have a larger pair of binoculars. Optics as good as they come for the price
Cons – Objective lens caps are tricky to put back in. But that,s being really picky
Helios binoculars can be purchased from Northern Optics