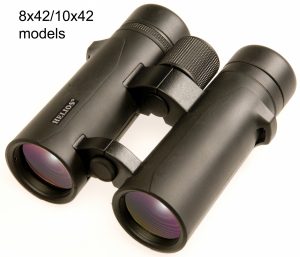 A customer came to the Northern Optics weekend outlet at the Waters` Edge country park, Barton Upon Humber looking for a set of bird watching binoculars suitable for using with spectacles on.
After getting the low down from myself on what the numbers meant and explaining with a practical demonstration on exit pupils and their effect on low light performance, the opted for the Helios Nitropsort 10×42 binoculars.
At first the customer found them harder to hold steady than the 8x version. But after a short while felt more comfortable and went for the 10x option.  With the benefit of silver coated phase corrected BaK-4 prisms, fully multi-coated optics and nitrogen waterproofing, you do get a lot for your little money
I do actually find these binoculars more suited to spectacle wearers than none spectacle wearers due to the twist eye cup positions, but the next person along may think different.   There is a touch of colour fringing when looking at bright objects such as Swans against a dark background. But that is being really picking and hardly noticeable.
These remain one of the best value mid spec binoculars available on the market. High recommended