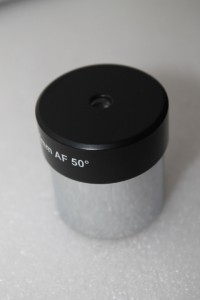 As the Ostara Plossl 6.5mm eyepiece is classed as a low-mid priced eyepiece, it seemed only fair to test on a Celestron Astromaster 70mm refractor. This gave a magnification of 138x. For a standard 70mm telescope this would be a good test for both telescope and eyepiece.
The Ostara PL 6,5mm was one of the later additions to the HR range. Fully coated optics and a sturdy metal body
Turning to Jupiter, I got very clear views of the 2 main cloud belts. But with a little patience some extra dark areas briefly appeared in the belts. The 4 main Moons were very clear points of light and fitted well in the field of view. The 6.5mm plossl does not come with a rubber eye cup , but without glasses I found this not an issue, and made for a very comfortable viewing experience. I would say the eyepiece is not for spectacle wearers.
But then by far the most rewarding and surprising view was when I turned to the lovely double star Algieba in Leo. I thought this pair of 2.4 and 3.6 magnitude stars with a small separation of 4.6 arc seconds would be a challenge. But was greeted by a beautiful sight with a  clear gap between the two, with a sharp diffraction ring around each star making a stunning sight to see. One more nice surprise was the lack of chromatic aberration.
Summing up this is a great eyepiece for small – medium priced scopes. It may not have the high contrast of the fully multi-coated eyepieces, but is a great way to enjoy high magnification without breaking the bank
The Ostara PL 6.5mm eyepiece can be bought HERE from Northern Optics in Lincolnshire UK