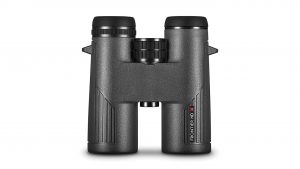 The Hawke Frontier HD X binoculars come with the same waterproofing to IPX7 standard and fog proofing as the ED X versions. This means they have can operatein temperatures from -15 to +55 degrees C , and can be stored in temperatures from -40 to +70 degrees C. A final check sheet is included with your purchase.
All of the above means these binoculars are perfect for those who go out hiking and bird-watching  in extreme weather conditions. Unlike the similar Frontier ED X  , the HD X do not have ED glass, but do have the same dielectric coated prisms for outstanding brightness.
Available in 10x and 8x , with a choice of 32mm or 42mm objective lenses in green or grey.The lightweight magnesium alloy chassis makes the 42mm model around 30g lighter than the equivalent single hinge sapphire version.