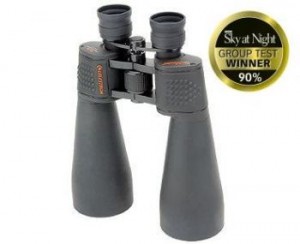 The Celestron Skymaster 15×70 binoculars are the preferred choice of many customers looking for a starting point in astronomy. Although I find them easy to hand hold, they do come with a tripod adapter if needed.
As for the optics, you get a clear bright view with a good field. Them is some chromatic aberration, but not enough to distract. Ideal for plane spotters, ship spotting , and of course astronomy. The magnification is good enough to see craters and mountains on the Moon. Jupiter's Galilean satellites are easy to track. Providing you can get to clear skies, many star clusters and Nebulae are within reach.
Handling is excellent, and can be used with gloves on. They are not nitrogen waterproof, so be aware of this if using on long damp nights.
Unlike the Skymaster 25×70 and 20×80 I found the eye relief good enough to be used with spectacles on. The soft rubber eye cups are easy to fold down and pop back up.
They are not close focus. So if you are looking for a pair of binoculars for looking at birds in the back garden, they will not be for you.
A stronger neck strap and tripod adapter is something I would recommend upgrading.
At around £65.00 (price correct at Sept 2011) they represent excellent value for money.
Buy the Celestron Skymaster 15×70 binoculars online here