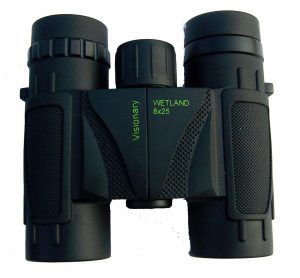 For this review Northern Optics took a look at the Visionary Wetland 8×25 compact binoculars. Priced at around £50, they are aimed at the keen beginner.
The outer box is solid, with some images of wildlife and recommended uses. You then find inside a standard medium nylon neck strap and soft case with Visionary on it. First impression of the binoculars is that they are extremely solid and well built. The textured rubber body is very grippy. Eye cups are twist type, but sadly eye relief is not long enough for spectacle wearers. The body itself does not flex on the single hinge, meaning it stays in position once set. This makes for ease of handling and fast set up.
So lets check the optics. OK the colours, brightness and whiteness of the whites is not as vivid as phase coated versions. But saying that, these are £50, not £100+, so it is unfair to compare. What you do get is a very acceptable image with nice colours. On the subject of colours, there is a little purple fringing in the centre, but well within tolerances for optics in this price range. Field of view is very good as with many 8×25 binoculars.
The focus wheel moves freely with no tight spots. I did find the close focus varies from one model to the next. So best check out a set 1st. As I write this review we do have a small number for you to try at our weekend outlet at the Waters` edge visitor centre and Barton Upon Humber.
Spec. Multi-coated optics. BaK-4 prisms. Nitrogen waterproof
Summing up, the optics about par for the price. But the major plus points are the build quality, ease of use and handling, which makes them ideal as a starter set