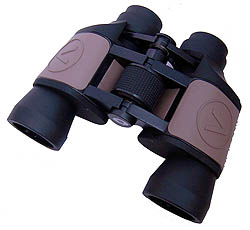 The Visionary B4 range look similar to the budget Classics, but with better build quality and BaK-4 prisms.  For general use, I found the 7x35s to be the best of the range. The super wide 161m field and large depth of field make them very user friendly. The 5mm exit pupil makes them better than expected in low light conditions. Its really hard to find a fault, other than say that the eye relief is not quite long enough for spectacle wearers.
These will outperform cheaper 50mm BaK-7 binoculars for image brightness and quality. The case , neck strap and lens covers are all standard OEM low quality. However these can be upgraded.
I find that many people who struggle linning up binoculars find the 7×35 B4 binoculars easy to use
If you are not worried about waterproofing and just want easy to use binoculars with excellent optics, go for it.
Highly recommended