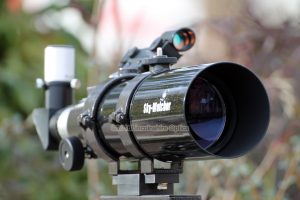 Unlike some telescopes that come with mounts unsuitable to handle the weight, the popular Skywatcher ST80 comes in one option with a heavy duty AZ3 mount that can easily handle telescopes 3x the weight of the ST80.
The 400mm f5 makes OTA not only makes it perfect for low power observing of rich field star clusters, nebula and galaxies (from dark skies), it also makes it a great wide field imaging device. A t-thread on the focuser allows fitting of a t-ring. Note that depending on the focal plane of your DSLR camera, you may need to use an extension tube.
Unlike many of the other Skywatcher telescopes that come with a pair of lower end modified achromatic eyepieces, the ST80 comes with a pair of 12.5mm and 26mm plossl. The 2x barlow however is budget.
The red dot finder attaches to a hot shoe. Meaning you can upgrade to the Skywatcher optical finderscopes if you wish
As standard it comes with a 90 degree diagonal. But if using for terrestrial use, we recommend purchasing a 45 degree prism diagonal that will give left / right correct orientation