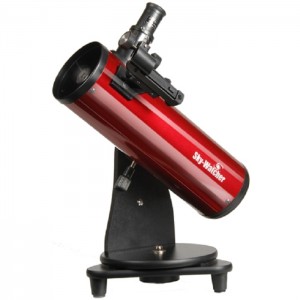 New for 2014 is the Skywatcher 100p Newtonian reflector. Comes with a parabolic 4″ mirror for great low power views of the heavens.
Complete with 10mm , 25mm eyepieces and a 2x barlow., to give a magnification range of 16x – 80x.
The attractive red telescope weighs just 2.8kg and the compact mount is designed for table tops
The 1.25″ rack and pinion focuser will accept additional 1.25″ eyepieces. Also the eyepieces included will accept standard 1.25″ filters.
A handy red dot finderscope will help centre your targets in the centre of view
Available to purchase from Northern Optics