Available from Northern Optics , the Skywatcher Nirvana-ES UWA-82 eyepieces are the latest version of the older Nirvana range. The 1.25″ range come in 4,7 and 16mm. Although they use the same optics and coatings, the over all design is different.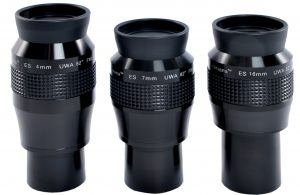 As well as a sleek new look body, they comes with a fold down eye cup, as apposed to the twist type of the previous model.  We still find nowadays, many users still prefer soft fold down eye cups for comfort. So do not think this is a step backwards. It is simply evolving to users needs.
As with the old model, you get a picture window 82 degrees field , fully multi-coated optics with blackened edges and 7 lens elements in 4 groups.
These top quality ultra wide angle 1.25" eyepieces offer an incredible jaw-dropping viewing experience to rival some of the leading premium eyepieces on the market, but at an extremely competitive price. The huge 82 degree apparent field of view, superb field-edge correction and excellent contrast combine to provide a wonderfully immersive and memorable viewing experience. Work superbly in telescopes of all focal lengths
12mm eye relief on all models. Beautifully finished in high-gloss anodised aluminium with knurled rubber grips. Threaded to accept standard 1.25" filters. Weight approx 170g.