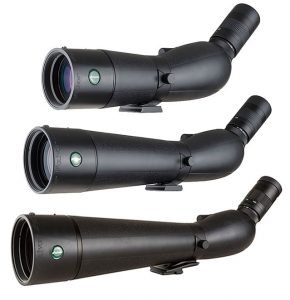 The Olivon premium "T" series are a versatile set of 3 spotting scope sizes with different options, subject to availbilty. The T650 (65mm) , T800 (80mm) and T900 (90mm) offer something for many budgets and uses.
Each model comes as standard multi-coated optics with the high end option also having ED glass for extra clarity, less chromatic aberration and improved low light capability. All have rotating tripod mounts , making them ideal for target practice as well as birdwatching and even wide field astronomy.
Also each variant can have a suitable tripod added as a bundle. Ask your dealer about this.
One major advantage of these spotters is that they accept most 1.25″ telescope eyepieces. This makes them easily upgradable should you need extra magnification or an eyepiece with a much wider field of view. There are also choice of Olivon eyepieces (subject to availability) from a HR and SHR zoom eyepiece to high quality ED glass fixed focal lengths.
Each Olivon spotting scope will also accepts a range of Olivon adapters to fit smart phones, compact and DSLR cameras.
Available to purchase from Northern Optics