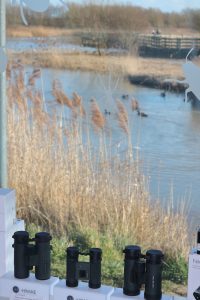 It was a very dull and damp day at Northern Optics when a customer visited our Optics weekend at Barton`s Waters` edge visitor centre. So you could say it was perfect conditions for a customer looking for a set of high grade binoculars for observing in low light .
They liked the idea of ED glass and a wide field of view. But was open to options from non ED binoculars and 10x versions. After trying the Hawke Frontier HD X 10×42 , 8×42 and the Hawke Frontier ED X 8×42, it was a very close run thing. But in the customers opinion the EDx 8×42 gave the best results, and made the purchase. Other key factors that impressed the customer was how easy they were to handle, wide field of view, quality case and starp , plus the comprehensive Hawke lifetime warranty. But the other Hawke tested all did the job in the awfull conditions.
As always, our customers get the chance to test binoculars looking across a nature reserve lake, and after an initial introduction to the binoculars are left to see which set suits them with no pressure from us. Imahe top right shows the view from our shop window. Hope to see you there.