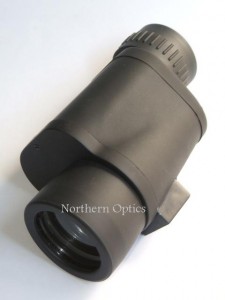 The illusion 7×35 monocular uses a porro prism design, rather than the more compact and widely used roof prism versions. The end result of the larger porro prism is that you get more light through and pound for pound a brighter image for your money.
Although the porro prism design is slightly larger than the usual choices, I found it very easy to hand hold. With a little practice I found that I could hold them and adjust the focus with one hand. The focusing is done as if you were using a right eye dioptre adjustment.
The wide 8 degrees field makes tracking moving objects easy. The porro prism and good quailty lens coating gives a bright and clear image with better than expected edge of field quality. All this from just a 35mm lens.
Comes complete with a handy carry case, lens caps and a neck strap. By far the best feature that is not on many monoculars is a tripod thread. Ideal for mounting on a mono-pod
Also available in 10×50 and 20×50