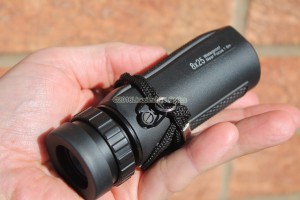 I had the pleasure of testing the Helios Rapide 8×25 monocular this week. Aimed at the budget end of the market, but as you will see in this review it is anything but budget quality.
The outer packaging is a colourful and sturdy design, showing a good image of the monocular and the full specs. The case is a standard soft nylon one with a belt loop. Thankfully the cleaning cloth included is of a good standard. Sadly so many cleaning cloths with binoculars are very poor quality and wood do more harm than good.
So taking the monocular out of the box, you are greeted by a very sturdy looking body with thick rubber armour and an attractive design. The eye cup is twist type, and has eye relief long enough for spectacle wearers. At first I found the focus wheel quite stiff, but this loosed up very quickly with use.
Optically the view you get is outstanding for a £14.99 (at time of this review) monocular. The result is excellent colours and contrast with virtually no internal reflection. Also for such a small 25mm objective the field is very flat with excellent edge of field sharpness. This is without doubt the best sub £20 monocular I have tested
Close focus is 1.6m, making it also suitable for close up work such as insects in the garden. The wide 6.7 degree field makes tracking of moving targets a breeze. Just under half a turn of the focus wheel is needed for focus from arounf 5m to infinity.
Summing up I would recommend this for adults and children who are old enough to understand how to focus
To check availability contact Northern Optics HERE