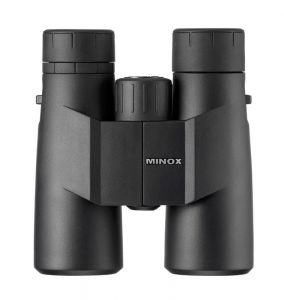 Had the pleasure of testing the Minox BF 8×42 binoculars and was not left disappointed. The BF range is targeted at the beginner at an affordable price, but this does not make them budget. FMC optics, phase coated BaK-4 prisms and nitrogen gas filled to 3m waterproof, they have similar specification to some brands premium lines.
At first glance the 105m @ 1000m may seem narrower than many others with 120 – 143m field of views, but do not let this put you off. You soon become acclimatised to this, and is still wide enough to quickly find your targets. On the subject of the view through the eyepiece, you get a very sharp view with excellent vivid colours. I did actually find less CA than a similar priced ED option from another brand. Well blackened internals helps with the contrast.
These are long eye relief at 18mm. The click stop twist eye cups are among the most solid I have used. The small click stops make it easy to find your own best setting. No problem for spectacle wearers with a full view with the cups down.
Handling is as good as they come with a smooth focuser with fast focus and a grippy rubber body. The case is semi soft and of a very high quality. The clip fastener is a little to use with gloves on though. It comes with a padded strap , small microfibre cleaning cloth, lens caps (eye piece only) and a 10 years warranty.
Summing up, excellent value for money. Maybe a wider FOV would have been better. But saying that the view you do get is superb
Optics 8.5 / 10
Handling 9/10
Value for money 10/10
Build quality 9/10
Buy HERE from Northern Optics