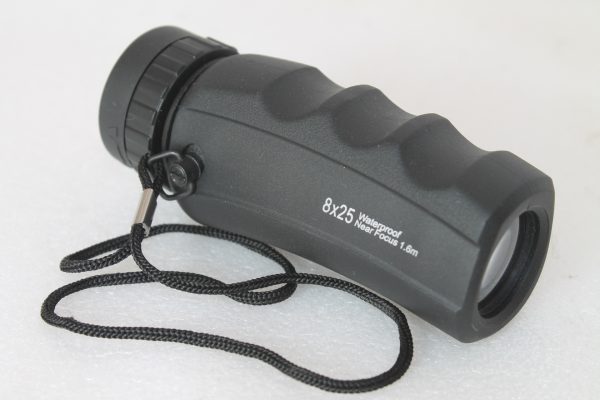 Entry level 8×25 monocular from Hilkinson. Being only 131g and 110mm long , they are perfect for wildlife watching on the go. So lets take a closer look.
The monocular comes in a plain box show the brand name and bar code. Inside we find a very basic nylon soft case with belt loop and a useful leaftet showing how to care for the product and a simple to understand glossary.
Taking the monocular out the case, the wrist strap is already attached. The monocular itself feels very solid and has a rubber covering with finger grips. Looking at the controls, the focus moves very smooth with no tight spots. Unlike some with an internal focus, this one extends outwards from the body as you focus closer. One minor potential issue with this, is that dust may gather on the extended section and risk penetration. But keep dust at bay with a dust blower after use, and this should not be a problem.
The eye cup is twist type. It only quotes as 13mm eye relief, but I found I could easily get full field of view with spectacles on. One thing to note, that with the focus and eye cup twisted out, the monocular will be too long to fit back in the case. So simply return the focus to the start position and it will fit.
At 105 m @ 1000m (6 degrees), it may not be as wide angle as some 8×25 monoculars (The Helios nitrosport for example) . But what you do get is better eye relief and a much flatter field. Edge of field sharpness is outstanding for optics in this price range, with very low levels of barrel distortion. So what you lose in FOV, you gain with the extra eye relief and image sharpness.
Colours and contrast are very good for optics in this price range, with chromatic aberration well within tollerences. Lastly a great feature of the Hilkinson 8×25 monocular is the close focus. On the body it shows as 1.6 metres. Elsewhere I see quotes of under 2m and 1.2m. On testing I actually found I could focus down to 1.1m. This is perfect if you like looking at Butterflies and Bees etc without disturbing them.
Now discontinued