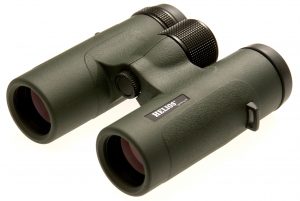 We had the first chance to give the new Helios Lightwing 8×32 binoculars a test this week. As always the first thing you see, or should I say feel is the build quality. Although they are compact in size, they feel very solid in construction. This gives you reassurance these are built to last.
The twist eye cups move smoothly out for users without spectacles on. The cups are a very sleek and attractive design, and not chunky like many others. The focus is also extremely smooth to use, similar to the Mistral series.
Considering these are not ED glass, the quality and brightness of the image is exceptional.  Phase and Silver Di-Electric coated BaK-4 prisms give an amazing view with high contrast. In fact I found them as bright as the 8×42 version. The wide 137m @ 1000m field makes tracking moving targets a breeze.
So how to they compare to the lesser priced but still very good Helios Mistral 8×32 binoculars ?..I a word better in every way from build quality to field of view and optics. So in  conclusion very fairly priced at £149 (price at time of this review)
Highly recommended
Click  HERE to buy from Northern Optics