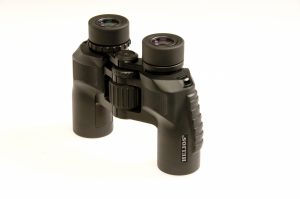 After looking through 100s of binoculars over the years it takes something special to give me the wow ! factor. The Helios Aquila 6.5×32 are now in this group of binoculars that stand out against most others in the same price range.
As always my reviews will be my own opinions and no one else.
Starting with the outer box, we see a many pink appearance with images of the binoculars and a large bird of prey. You also see the full specs , which are impressive for the price.
So opening the box we find a very standard nylon soft case, nylon strap and small cleaning cloth. OK I have seen better cases and straps, but on much more expensive binoculars..Once however you hold the binoculars, everything changes. They are extremely well built and solid, yet only weigh 500g.
The eye pieces have a one piece flexible guard, and drop down stay on, on the objectives. Unlike some similar 7×30 binoculars, they twist eye cups feel very nice , with small clicks as you unwind them out. Some others feel very flimsy. Not so hear.
So with the eye cups out, lets have a look. This is where the Wow factor kicks in. For such a small 30mm set of binoculars the view is outstanding with a bright and very wide field of view with high contrast and vivid colours. If you like flat field binoculars such as 7×50 and 8×56 you will love these. Internal baffling is excellent with virtually no internal refletion even with the eye cups down.
Do not be put off by the 6.5x magnification. This is more than adequate for mid distance viewing. The wide 4.9mm exit pupil is great for low light observing. I have not tried yet , but bet they will be great for wide field astronomy.
Yes there is some CA, but well within tolerances. One downside is the close focus of around 3.5m (quoted). But for a porro prism design this is one of the better.
Handling is very easy with a grippy rubber covering and large focus wheel. The dioptre is easy to adjust even with the eye cups twisted down.
Summing up, these are truly outstanding binoculars for the price. Stunning optics, build quality and handling the plus points. Only downside is probably the unpadded strap. But this can quickly be remedied if you ask the dealer nicely for an upgrade.
Highly recommend as comprise between 8×42 binoculars and compact 25mm versions
Click Here to buy from Northern Optics and see full specs