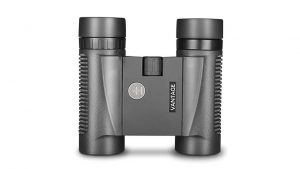 The Hawke Vantage range of binoculars replaced the discontinued premier range. These are designed to be affordable to most users, while retaining the Hawke build quality and back up service.
If I were to sum up the Hawke vantage 8×25 binoculars in 3 words, it would be better than expected. So lets have a look in more detail. The outer box is the same simple design white box that is very strong in construction. On opening, we find a very nice soft case with belt loop and Velcro fastening . The Hawke logo is showing. No shoulder strap for the case is included, or attachments to fit one. You get a simple un-padded  neck strap for the binoculars and a non micro-fibre cleaning cloth. But we always upgrade the cloth to a better one for those who buy at our optics weekends.
Removing the binoculars from the case, I found one thing that stood out straight away. For a budget set, these feel very solid and nicely put together. I actually prefer the grey finish, which is less loud  than the green. The twist eye cups move freely, and stay in place once fully out. These are a single stage movement, and not 3 stages as quoted.
On the subject of the twist eye cups, the eye relief is quoted as only 10mm. Yet on testing with them twisted down, I could (just) get the full field of view with my glasses on. If eye relief was only 10mm, this would not be possible. So I estimate it to be nearer to 12-13mm. This is a massive plus point.
Handling is very easy, with a ribbed rubber covering aiding grip. The strap connectors are nicely tucked away on the inside and do not catch on your hands like some so. The focus wheel is very responsive, if a little small. On the other hand, the dioptre adjustment wheel is a little stiff. But this means it stays in place once set.
Optics are quoted as fully coated. An inspection does show the eye pieces as fully coated, but I believe the objectives are multi-coated. The difference in anti-reflection compared the the eyepieces is obvious. As with the eye relief, another plus point here. Prisms are BaK-4. These are aluminium coated, rather than silver coatings on the higher spec Hawke binoculars. End result is a pleasant end result with colours and contrast adequate for this price range. Not quite the cutting edge sharpness and the Nature Trek or Endurance ED models, but priced accordingly. Field of view is excellent at 119m @ 1000m . But regarding the optics, I am saving the best till last. For such a low priced on ED set, the low level of chromatic aberration is quite remarkable. For example, red colour fringing only starts to appear around 80 percent from centre, and at very low levels. I have seen more CA through some so called ED glass compact binoculars. Edge of field sharpness is also very good.
Other thing to take note. Close focus is 6m (I tested this). Fine for back garden observations, but not for extreme close up
Summing up.
Plus point. Solid build quality and low levels of chromatic aberration.
Minus point. Poor cleaning cloth and restricted close focus
Recommended, and available to purchase from Northern Optics